Kansas City Builder Wins NAHB'S 2022 Young Professional Award
April 11th, 2023 | by
patriothomes
Kansas City, Mo. – April 11, 2023 – Brian Tebbenkamp, owner and general manager of Patriot Homes, received the National Association of Home Builders (NAHB) 2022 Young Professional Award.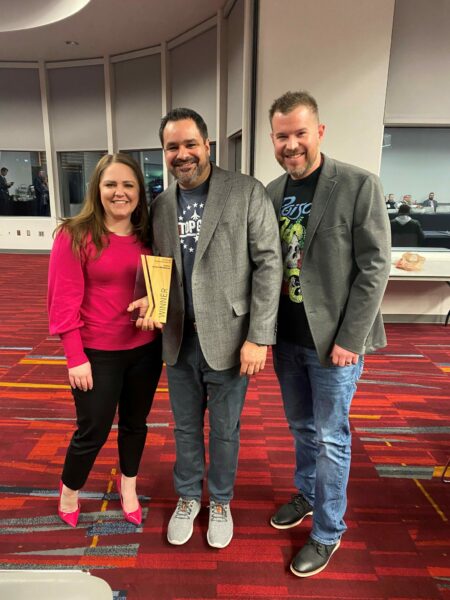 The award was presented Jan. 30, 2023, at the NAHB International Builders' Show in Las Vegas. The NAHB Young Professional Award recognizes building industry professionals under the age of 45 who demonstrate excellence in three categories: Advocacy for the home building industry; peer-to-peer collaboration; and community outreach. Tebbenkamp competed against other nominees from across the country and was selected as one of three finalists for the region.
Tebbenkamp excelled early in his career at trim carpentry and custom finish work, opening his first woodworking business at the age of 22. In 2012, he opened KC Appliance Services to fund his burgeoning home building company and eventually founded Patriot Homes in 2014. While Tebbenkamp admits researching and proactively incorporating innovative building materials and techniques into his projects has been key to his company's continued success, he's resolute in putting people first. Tebbenkamp's commitment to forging long term relationships with trade partners, clients, and employees remains his top priority.
"It's an honor to receive this prestigious award," said Tebbenkamp. "When I began Patriot Homes nine years ago my goal was to provide an unparalleled level of customer service, focus on refining internal processes, and remain on the cutting edge as far as building materials and techniques. Never did I imagine it would result national recognition."
Tebbenkamp is the 2023 president of the Home Builders Association of Greater Kansas City. He is a vital member of the City of Kansas City Code Task Force, facilitating productive conversations between local builders and city officials to improve permitting, plan review, and inspection efficiency while advocating for builders.
NAHB's Young Professionals Committee sponsors the NAHB Young Professional Awards. The committee provides NAHB leadership with guidance on mentoring, leadership training, and education for emerging industry professionals.
###
ABOUT PATRIOT HOMES
At Patriot Homes, we hold ourselves to a higher standard and believe our dedication to customer service and commitment to building homes with an unparalleled level of quality and craftsmanship is what sets us apart from our competition. Our team actively listens to understand the individual needs of our clients and provides open, honest communication throughout the building experience. We're proactive in adopting innovative building materials and techniques that surpass industry standards resulting in a better built home our clients can be proud of for years to come. Patriot Homes offers a selection of award-winning floor plans to choose from and is proud to have been chosen as the builder for the 2023 Kansas City St. Jude Dream Home Giveaway®. For more information, visit PatriotHomesKC.com.